By Autumn Gray
Mark your calendars! Prime Time Publishing's 50+ Expo, the Albuquerque metro's largest free health fair for seniors, has been set for 8 a.m. – 1:30 p.m. October 11 at Embassy Suites Hotel near Downtown.
For 25 years, this annual event has provided ages 50 and over with comprehensive information about health and wellness topics of particular interest to them. Now celebrating its 26th run, the Expo does so under the leadership of Prime Time's new owners, Ashley Conner and Dana Benjamin, who took the helm of the monthly magazine and all Prime Time-associated events and publications at the start of the year.
Just as Conner and Benjamin have kept the magazine to tradition while expanding its content, the women aren't overhauling anything when it comes to the well-established health event either. Rather, they'll be giving attendees all they've come to know and love – and then some.
"We have a handful of new vendors this year. So, people will be seeing some new faces and getting access to some new information," Conner said.
For example, IMA Clinical Research, formerly known as Albuquerque Neuroscience, will have a mobile research unit on site for the first time. The organization conducts clinical trials that support the development of safe and effective medical treatments. Mobile units will provide an on-site opportunity for attendees to volunteer to participate in a study and get screened for qualification. (To read more about IMA click here)
A dentist has also been added to the vendor mix after some callers requested it.
"We get calls every day from readers," Conner said, "so I think it's going to be a really good turnout this year."
Between 600 and 1,000 people are expected to mill around a lineup of nearly 60 health-related vendors and providers. Representatives will be offering wellness tips, discussing programs and services, answering questions, and giving information on Medicare, retirement living, immunizations, and more. There will also be an impressive lineup of notable speakers giving presentations focused on senior health needs.
Keeping to tradition, Lovelace Health System will conduct screenings for blood pressure, glucose, and cholesterol checks, and Lovelace UNM Rehabilitation Hospital will provide balance screenings.
Walgreens will be dispensing flu shots and Covid-19 vaccines beginning at 9 a.m. on a first-come, first-served basis. Anyone wishing to get a shot must present their insurance card.
Since total wellness includes activity and socializing – all of which produce mood-boosting endorphins, according to the Cleveland Clinic – the Expo would be remiss not to include a healthy dose of entertainment.
In that vein, attendees can expect the always highly-anticipated free snacks, hourly prize drawings, and live music. This year, popular local Latin-based band Nosotros is set to perform from noon to 1 p.m., and the dance floor will be open for folks to salsa to their hearts' content.
"We hope that 50 percent of the reason people go is to have a good time," Conner said. "The goal is for people to make a day of it.
"We also hope people on the younger end of the spectrum might take their older loved ones out for a day together because it's a good way to get someone out who may be less mobile."
People seeking a ride can get one on free shuttles provided by the City of Albuquerque Department of Senior Affairs. Shuttles will run every 30 minutes between City senior centers and the Embassy Suites. They will leave the centers beginning at 8:30 a.m., and the last shuttle will leave the Embassy Suites at 1:30 pm.
Prime Time wishes to thank this year's Expo sponsors: gold sponsor BCBSNM; silver sponsors IMA Clinical Research and Cigna; bronze sponsors Optum New Mexico and Humana; band sponsor Comfortable Dentistry 4U; and the City of Albuquerque Department of Senior Affairs for providing transportation.
Meet the 2022 Prime Time 50+ Health Expo Speakers
9 a.m.: Kathi Rieger, health insurance broker and owner of Medicare Benefits Advisor, LLC
Kathi Rieger has 10 years' experience as a locally based health insurance broker, offering Medicare health insurance consultations and enrollment services on a no-fee basis. She represents all locally available Medicare Advantage, Medicare Supplement, and Medicare Prescription Drug plans.
Because seniors' preferences, health issues, and resources differ widely, Kathi's goal is always to "fit the plan to the person." After a plan has been chosen, Kathi takes care of most of the often-complex paperwork required for enrollment.
Kathi studied accounting and finance at Chabot College in California and has continued her professional development with courses at the University of New Mexico and other institutions. Her long-term goals include continuing to assist seniors and families with advice and support as lives and situations change; staying current with changes in the health care market; and being a source of support for other advisors, especially those new to the field.
Kathi and her husband, Ron, have been married for 38 years. They live in Albuquerque and have two grown children and a very spoiled dog. Kathi enjoys camping, hiking, reading, volunteering and staying active.
Please contact Kathi to schedule a private, complementary "get-acquainted meeting" about your health insurance needs and concerns or about speaking at a group event. Kathi conducts free webinars and workshops on Medicare planning throughout the community. She can be reached at [email protected] or at 505-357-3777.
Topic: Medicare 101
Are you turning 65 this year? If you have Medicare, do you have the right Medicare plan for your health care needs? This class can help you understand all the parts of Medicare and how they work together to provide your coverage. Kathi will cover enrollment periods, special election periods, and how Medicare coordinates with other types of insurance plans and options.
10 a.m.: Dr. Latha Raja Shankar, Chief Medical Officer at BCBSNM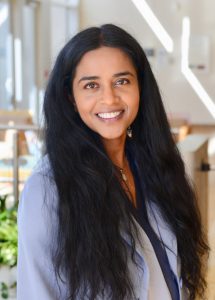 Dr. Latha Raja Shankar joined BCBSNM as chief medical officer in March. She has served as a physician executive for about 11 years and is experienced in ambulatory, inpatient, and managed care settings. As chief medical officer, Dr. Shankar directs the development and clinical oversight of health care management and quality programs at BCBSNM. In addition, Dr. Shankar is responsible for maintaining and enhancing effective relationships with physicians, hospitals, and medical service companies.
Dr. Shankar has a medical degree from Madras Medical College in Chennai, India, and holds a master's of business administration degree from the University of Tennessee, Knoxville. She has authored and co-authored various published articles on medical research and clinical and patient experience. Dr. Shankar serves on the National Alliance on Mental Illness New Mexico board of directors, the New Mexico Telehealth Alliance board, and the Doña Ana Wellness Institute advisory council.
For about eight years, Dr. Shankar worked as an urgent care physician and hospitalist for Aurora Health Care and Columbia St. Mary's Hospitals in Milwaukee, Wis. Dr. Shankar most recently worked as chief medical director for Western Sky Community Care, where she directed pharmacy, medical directors, and quality/risk adjustment and oversaw utilization management, care coordination, medical cost ratio management and health benefits ratio initiatives.
Before joining Western Sky Community Care, Dr. Shankar served as chief medical officer for Molina Health Care, where she focused on enhancing Human Services Department and provider relations, community integration, and delivery of cost-effective care. She has also held medical director positions at Molina and Presbyterian Healthcare Services, where she focused on change management through merger acquisition, stabilizing provider turnover, and streamlining urgent care workflow.
Topic: Senior Health
How can you keep healthy in your senior years? Dr. Shankar will cover a variety of topics, including medical screenings, vaccines, how to eat right, and simple steps you can take to maintain a healthful lifestyle. There will also be an opportunity for you to ask general health questions. 
11 a.m.: Dr. Charissa Lateesha Geyer, Medical Director of Specialty Care at Optum New Mexico
Dr. Charissa Geyer is known for leveraging data, health care quality, and cost analytics to support change, reduce costs, and improve accountability. It is important to her to implement process improvements focusing on affordability initiatives that improve patient outcomes. As a hospitalist, she understands a variety of patient complexities and is passionate about individualizing the health care experience to each patient's unique needs.
Before coming to New Mexico, she was the Hospitalist Program Medical Director at Miami Valley Hospital South in Centerville, Ohio. She received a bachelor of science degree in public health with honors from the University of North Carolina (UNC) at Chapel Hill, her medical degree from UNC Chapel Hill School of Medicine, and a master's degree of health care administration from Virginia Commonwealth University. She completed her medical residency at Kettering Medical Center in Dayton, Ohio. Dr. Geyer is board certified in internal medicine by the American Board of Internal Medicine.
When not at work, Dr. Geyer likes to spend her time with her husband and two daughters playing board games, completing jigsaw puzzles, scrapbooking, and perfecting her Nintendo skills. She also enjoys traveling, visiting museums, and bowling.
Topic: Living Healthier with Health Screenings
As a newcomer to the Prime Time 50+ Health Expo, Dr. Geyer is excited to share information about screenings that adults 50 and older should consider, why they are important, and how they work to keep you out of the hospital emergency room.